Our hearts go out to the senior/aging community. We strongly feel seniors need an advocate, especially regarding their financial affairs. We have seen too much abuse by both outsiders and family members. We have personally experienced the frustrations of helping our own parents. Serving this community has become a mission for us. Many are alone or do not feel comfortable asking their adult children for help. Some have children or friends that shouldn't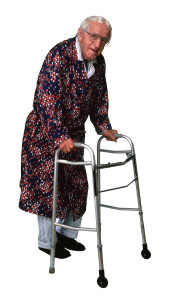 help them for one reason or another. That's where we come in. We can help with the everyday tasks like opening and sorting the mail,
Why and How We Can Help
A senior may be feeling overwhelmed with all the incoming mail and bills and fears they will forget to pay crucial bills.
Adult children want to have a positive relationship with their parent and having a 3rd party handle the financial  affairs takes them out of the often contentious middle.
Having a 3rd party like us oversee the daily finances reduces the opportunity for a "bad" child to take advantage of  parent. We become the gatekeeper.
Since we come on a regular basis, we can be the "eyes and ears" checking on Mom and Dad.
Sadly we lose these clients to natural causes but happily the family is more prepared and the senior passes away more peacefully knowing their affairs are in order.
Actual Case Studies
M is 92 years old, lives in an assisted living center and is actually quite competent and "with it." She sees many doctors and the number of medical bills to reconcile and pay is  overwhelming her. While she can pay her bills and reconcile her checkbook each month, she really doesn't want to anymore. She is fearful of forgetting to pay her monthly rent on time and the payment cannot be automated. Both her adult children are successful doctors with busy lives of their own, plus one lives out of state. They don't have the time to do this for her, plus it puts a strain on their relationship with M. We visit M twice a month (or more if needed) to process the mail, pay bills and keep her accounts reconciled. Most of what we do Since her children are busy, we have helped to hire and fire caregivers; take her to the estate attorney to update her trust; prepare input for the tax preparer; and work with the financial advisor to forecast out how much money M has to live out her life based on a now accurate monthly budget. Her finances are now in Quicken and her adult son with financial power of attorney has access if needed.
D is 88 years old, has never been married and has no children. His siblings have all passed away. He is feeling quite alone. He wants someone to be available "just in case" in the event of a medical emergency who understands his affairs.  He is currently paying his own bills but has asked for assistance to shore up his filing system and help get input ready for the CPA. One day he will have us pay bills, but it isn't needed now. We helped interview estate attorneys and get a trust established. Plus we met with the insurance agent to review all his policies and make sure he was adequately covered.
I is now 77 years old. She became a client when her husband was diagnosed with cancer and had a short time to live. He handled all the finances (which she hated) and at the time she was still working.  We helped to quickly get a complete picture of their financial affairs before her husband died and allowed her to better enjoy her last months with him knowing her affairs we being taken care of. Now retired, she still hates the finances and knows she need a gatekeeper on her spending. We were there to navigate all the issues and are still her rock today.
Not sure if we can help you? Contact us and let's talk!