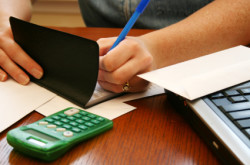 We are a mix of senior bookkeeper, professional organizer, project manager, Daily Money Manager and your right arm. We are experienced professionals that bring clarity and order to an individual's daily management of bills, budgets and record keeping. We provide a wide range of services to keep your day-to-day affairs in order, no matter what stage of life you are in.
Are you?
A busy professional short on time
A senior wanting to maintain their independence and stay at home
Concerned about your aging parents and want to help them
Travel frequently
A surviving spouse not familiar with finances
Trying to run a family office and things aren't going smoothly
A small business owner who knows accounting is not their gift
Do You Want?
An orderly flow in your financial matters
An independent voice in family matters
To spend less time on finances and more on other pursuits
To sleep better at night knowing your personal affairs are in order
To just have someone else experienced to lean on and lead the "team"
What We Do
As a Daily Money Manager we:
Monitor and pay bills on time
Negotiate with creditors
Balance checkbooks and investment statements
Develop budgets
Produce financial reports
Prepare input for tax preparer
We are especially skilled to:
Track and resolve insurance claims
Review mail & establish priorities
Organize important papers (financial, estate, tax)
Coordinate with your legal, tax, insurance, real estate and investment professionals
Coordinate with your care providers
Act as liaison between clients, their families and community resources
Simplify your life
After the initial setup and customization of your system, all of this can be done on a regular basis, depending on your needs. We offer a range of services that are customized for each client, whether you are an individual or a small business. While we use our proprietary templates to both streamline the setup process (which saves you time and money) and provide you with easy to find ongoing information, clients come to us at varying stages of being financially organized. We will work with what you have and over time; improve the documentation of your financial affairs.
Not sure if we can help you? Contact us and let's talk!

"I don't know how I could have continued to work AND deal with my husband going into hospice without your help. You came in and straightened out our messy financial world and now keep it in order. You are my lifesaver!"
– Inesa N.